The connection of Bradford on Avon with the rubber industry began in 1848, when Stephen Moulton set up his pioneering works in the redundant Kingston woollen mills.
Moulton had become involved when he was living in New York and worked with Charles Goodyear (1800-1860), who had developed a method of stabilising rubber. Natural latex rubber becomes sticky when warm and brittle when cold and became more brittle as it got old, so the elastic and water-proofing potential of this material could not be fully exploited. Rubber is a  natural latex which exudes as a liquid from various plants. Most important commercially, it comes from cuts in the bark of the South American tropical tree, Hevea brasilensis.
With backing from Goodyear and from a friend, Septimus Palairet, who lived in Woolley in Bradford, the town proved perfect because of its already-existing, but vacant, water- and steam-powered factory buildings and an available skilled local workforce that was accustomed to factory conditions.
Moulton soon had contracts to supply rubber buffers, springs and hose-pipes for the Great Western Railway, working with its engineer Isambard Kingdom Brunel, followed by other railway companies. Thin rubber-coated fabric sheeting was made into waterproof capes for the army, especially after the Crimean War broke out in 1853.
In 1891 Moulton's company merged with the London-based firm of George Spencer, becoming the George Spencer Moulton Rubber Company.
Other companies later sprang up at Limpley Stoke Mill and at Greenland Mills. in Bradford and across the world.
The Avon company, originating in the mill at Limpley Stoke, grew up after moving to Melksham to take over, first the Sirdar company in Bradford in 1915 and eventually the Spencer Moulton company in 1956.
Rubber production ceased in Bradford in the early 1990s, finishing in 1995. The sites that Avon occupied have all been redeveloped into other, non-industrial purposes, leaving only a memory of the industry that was once at the centre of the town's life.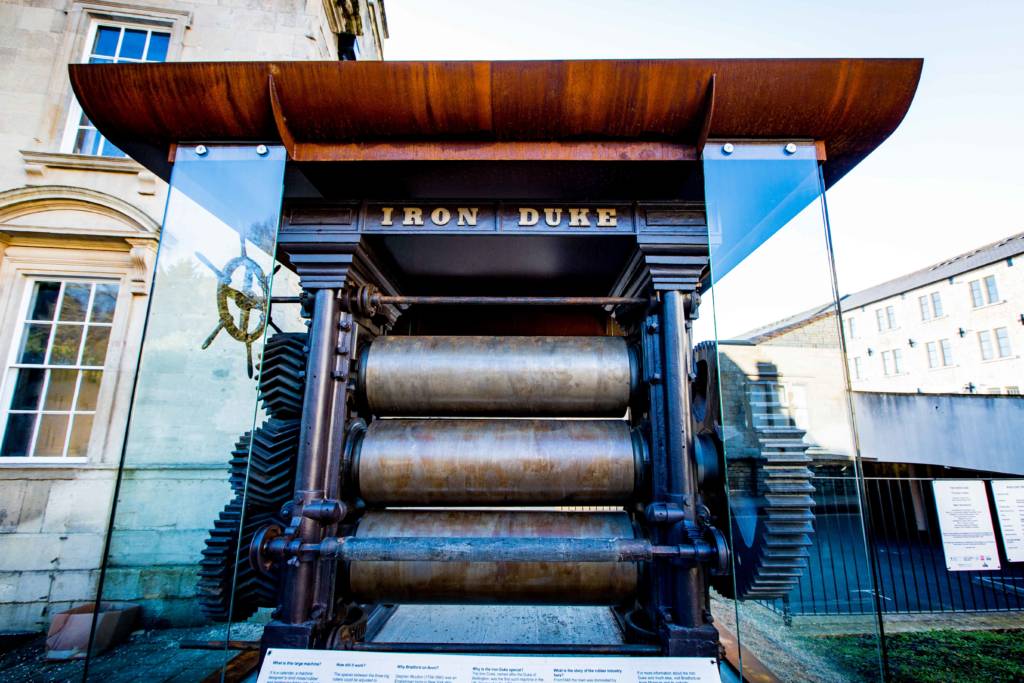 The Iron Duke
Built in 1849 for Stephen Moulton to start his rubber manufacturing business in Bradford on Avon, it was the first machine of its type in Europe. The Iron Duke is a rubber-rolling or calendaring machine, vulcanising rubber and cotton fabric to make waterproof sheeting. The rubber industry grew to dominate life in Bradford.