With the River Avon at its heart, the golden town of Bradford on Avon lies at the southern edge of the Cotswolds, surrounded by glorious countryside. It is no wonder that this special place has drawn people to the area since the Iron Age – for many different reasons.
The Saxons drove their carts across the 'broad ford' that gave the town its name, and you can follow in their path today, on your way to the impressive Tithe Barn – described by English Heritage as:
"One of the largest medieval barns in England, and architecturally one of the finest."
Wander back into town along the canal or riverside, and you can't miss the superb town bridge – parts of which date back to the 13th century – that replaced the ford.  Its nine arches span the Avon, and at its centre is a medieval pilgrim chapel, later converted into a 'lock-up' for undesirables. Although the Town Council hold the keys, rest assured it is now only open to visitors on World Heritage Open Days!
Bradford on Avon's staple industry for six centuries was wool and weaving, starting in the 14th century. The mechanisation of the wool industry in the late 18th century saw the construction of the great mills that still dominate the town's architecture, along with the rows – or 'ranks' – of weavers' cottages lining the hillsides and streets, punctuated by the grand houses of wealthy clothiers.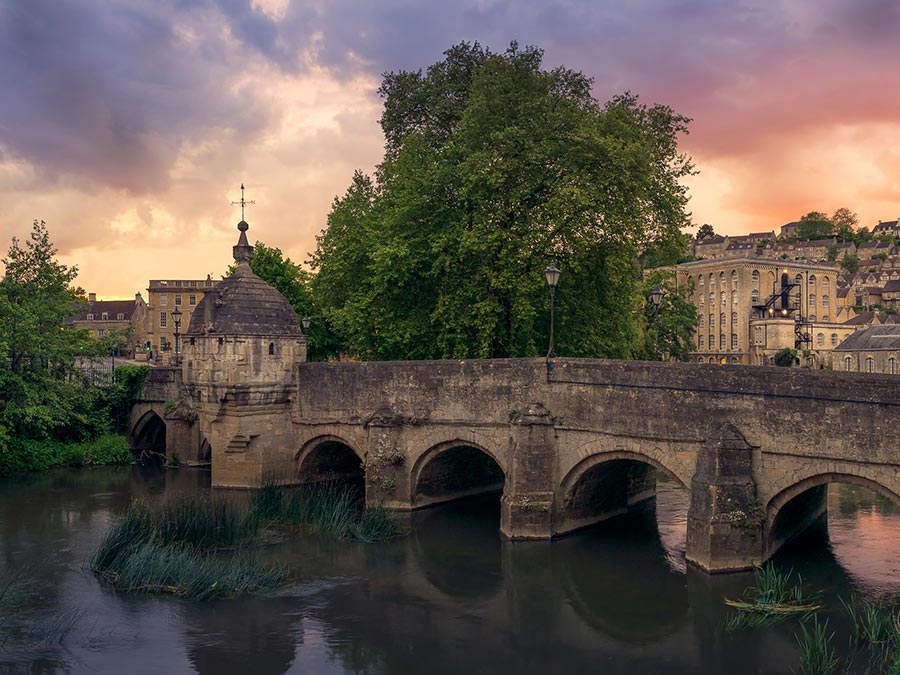 As the wool industry declined, largely because of the development of highly mechanised and large-scale wool mills in the north of England, it was replaced from 1848 by pioneering rubber works, which operated in the town until 1994 and form yet another of the  architectural layers that give Bradford its unique character.
Nowadays, the cottages, mills and industrial premises of old,  are independent shops, accommodation and a host of great places to wine and dine. The town is well connected by road, rail, water – and even hot air balloon – to other nearby tourist destinations making it the perfect place to visit, whether for just a day or as a base for your stay in the South West.
To find out more about what's to see in Bradford on Avon why not visit the Explore BoA area
Or to find out more about our history why not check out the Bradford on Avon Museum